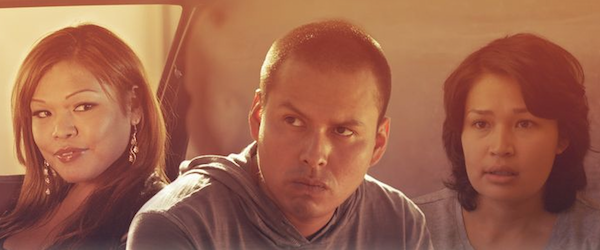 "Drunktown's Finest" is set in the fictional town of Dry Lake, New Mexico, which is pretty clearly a stand-in for Gallup, New Mexico. If you're familiar with Gallup, there'll be plenty of local landmarks you'll recognize; I saw a motel I stayed in once. Gallup/Dry Lake is right on the edge of the Navajo reservation, and the movie is about three different Navajos who go back and forth between dominant culture in the city and Navajo culture on the reservation, all in different ways.
Sick Boy (Jeremiah Bitsui) is just a few days away from joining the Army, if he can stay out of trouble long enough to report for basic training. That's hard for him, because he's got a circle of friends always drawing him into bad situations. He's got a pregnant girlfriend and a sister to take care of, but he's also got a bad temper and an impulsive nature. Felixia (Carmen Moore), transgendered, enters a competition for a Women of the Navajo calendar. She has very traditional grandparents at home who love and accept her for who she is, but she hides her more unsavory activities from them. Nizhoni (Morning Star Wilson)'s parents died when she was young in a car accident, and she was adopted by white doctors. She's on her way to college, but yearns to reconnect with her family on the reservation, despite the discouragement of her adoptive parents.
None of these three know each other at the beginning of the film, and it follows their separate stories until they intertwine.  This kind of cinema was really popular about 15 years ago, featured in movies like "Traffic," "Crash," and "Babel" (and, um, some other movies with more than one word in the title, probably.) It's supposed to be a comment on globalization and just how intertwined our lives have become, but it often feels contrived.  It doesn't in "Drunktown's Finest," maybe because, if you are a Navajo in or around Gallup, you probably will bump into every other Navajo who lives there, eventually. It's just that kind of community. Everybody knows everybody.  Wal-Mart on Friday is a giant family reunion.
It's pretty clear that director Sydney Freeland grew up in this kind of place, and is bringing her own life experience to the screen. "Drunktown's Finest" is well-observed, and its cultural specificity is its greatest strength. It's weaker at cinematic execution. Somehow, a movie that involves three intertwining stories and is only 90 minutes long still manages to drag in places. The performances are pretty uneven; Bitsui is the best and seems most at ease in front of the camera. Wilson broadcasts the most, as if she doesn't trust the camera to pick up on subtle emotion. And, with the exception of comedian duo James and Ernie (who play garbagemen,) a lot of the supporting performances are stiff as a board. One bad performance is the fault of the actor; this many bad performances is the fault of the director. However, this is Freeland's first feature-length film; there's hope that she can learn more about cinematic technique as she keeps making movies. Her knowledge and insight into life as a Navajo is much more rare, and not something you can learn in film school.