#95 on AFI's 100 Years, 100 Movies 10th Anniversary Edition is Peter Bogdonavich's "The Last Picture Show."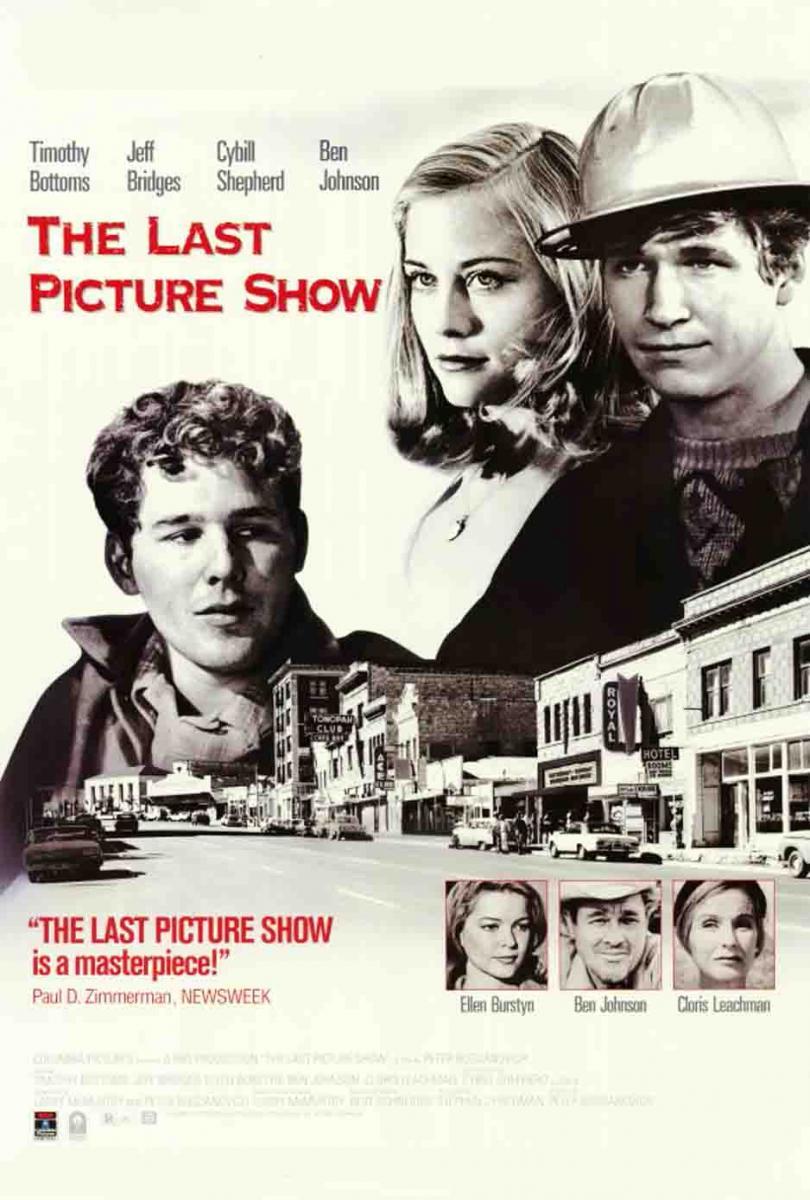 WK: Set in a tiny, windswept and dust-blown Texas town, "The Last Picture Show is a sad movie about sad people. At its center are a group of teenagers who haven't yet realized just how limited their options are in a place like this. Their parents and teachers now, among them Sam the Lion, who runs the pool hall and picture show.  There's also the waitress at the local diner, Jacy's mother, for whom fooling around is nothing more than a way to pass the time, and the coach's wife, who maybe hasn't yet resigned herself to this life, and thsu is still able to have her heart broken.  I'm not sure even that option is available for the other adults.
The high schoolers are Jeff Bridges, Cybil Shepherd, and Timothy Bottoms. Bridges and Shepherd are the best-looking and most popular kids at high school, so naturally they're dating, since high school relationships are more about social climbing than compatibility. Sad-eyed Bottoms would like to be dating Shepherd, but ends up involved with a much older woman.
CRH: The most interesting thing about The Last Picture Show is that it tells a story in Texas during the so-called filthy fifties. This was the time of severe economic recession. It was kind of a little Great Depression if you were still stuck in that part of the country. I think this is a very Texas story. The transition between the old west past and its zeal and purpose and the modern age with all its malaise and loss of meaning. I think the context is important in understanding the story. At the beginning of the seventies there was the beginnings of a nostalgia for the 1950s, but "The Last Picture Show" flies right in the face of that. I think this is actually one of the only fifties movies I've seen which is a real downer. I kind of like it.
General thoughts
CRH: I think the thing that really struck me about this movie is how sad it is. It's a story of people and their frailty as well as their angst but there's no resolution.  That's the only word that can really describe this film. This was new Hollywood and they were trying to make a movie that was unlike all the teenager movies that had ever been done. Those movies which starred  Frankie Avalon and others were obsessively clean and happy. This one isn't, I think that's why it made such a splash. It's not like a John Hughes movie where the angst is resolved– rather, the angst remains in the ruins of this dying Texas town.
WK: There's a poetic quality to "The Last Picture Show," but really, it's just so bleak, it's not much fun to watch. I feel like this is a film where I can admire the craft without ever wanting to see it again. I don't really enjoy watching people be miserable.
What works?
CRH: My favorite aspect of this movie is that it is in black and white. I think it's the essential artistic statement of the movie. We have to remember that in the 1950s, though this movie was made in the seventies, black and white was the medium for human dramas. Only silly films or fantasy films or Disney cartoons were in color. I think the black and white makes this movie very real. That combined with the excellent performances in this all-star cast makes this movie what it is.
WK: I think this film, like "Raging Bull," basically dares you to like its characters, in spite of the things they do.  And, by the end, I do like them.  Even Jacy.  So that part works.
What doesn't?
CRH: The fact that I had to explain all this historical context makes this film a little bit harder to view today. This world is detached by our time by nearly  70 years. Most moviegoers don't understand what Texas was like then or the historical moment. Nor were most of them alive during the 70s. The film was good enough on its own merits but I can't imagine a reason anyone would want to see it.
Favorite scenes
CRH: I love the scene where Sam the lion, Sonny and Billy are at the tank. I love that Sam tells him the story of his love. I love that the nostalgia and the beauty of those memories comes through on the screen. There's not much beauty in this movie except when the characters express genuine loss and remember the good times they did not appreciate at the time. This scene was gorgeous delivered with mastery by Ben Johnson. I verbally cursed at the screen when Sam died. The closest runner up was when Jacy's mother played by Ellen Burstyn reveals to Sonny that she was the woman that Sam was in love with. It's a beautiful moment of tenderness shared by a woman  we see as repugnant throughout the course of the film. It definitely had me thinking.
WK: The scenes at the end stick with me most — the death of a major character, and the way the old men stand around jawing about it, while Bottoms' heart is breaking.  And then he tries to leave, just drive away, and can't.  I think that moment captures the tone of this film so well.  And then Cloris Leachman – almost every scene she's in, but most particularly when she throws the coffee pot at the wall.
Problems?
CRH: I really don't see how anyone would set themselves to see it. It doesn't have that shocking factor it did when it was first released. It's not an easy watch because there's not much hope. Maybe the film is too truthful. It's kind of a downer.
WK: Agreed.
Buying or selling?
WK: Neither. I think this is basically where it will stay on the list. I can think of a lo tof movies I like better that aren't on the list, but this film has such a reputation, it's not going anywhere.  Nor should it. It is a well-made film, and a time capsule of sorts.  Like the Texas town where it's set, I don't really want to revisit it, but I'd be sad if it just disappeared altogether.
CRH: I agree with you. I don't think it's selling but I don't think of buying either. It's definitely a good piece of art and I will recommend it. And I guess despite my original concerns people are still watching it.