"Mud" was #7 on my top 10 movies of 2013 list.  I reviewed "Shotgun Stories" several years ago.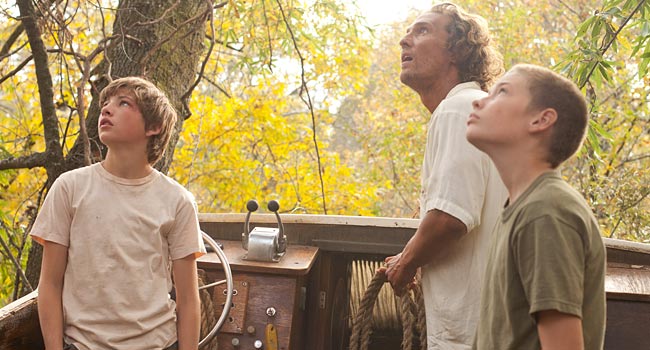 Over the last few years, Jeff Nichols has become one of my favorite new directors. He makes movies about blue-collar characters, men who are deeply connected to the land where they live and make their living, men who take care of their business but often see the world unraveling around them in one way or another. Nichols' favorite actor is Michael Shannon, who's also one of my favorite actors. If you've only ever seen him as General Zod in Zack Snyder's "Man of Steel," you haven't seen him at his best (though I thought he did a fine job there; in a film full of problems, he wasn't one of them.) Shannon is eminently believable as both a man of the earth, a hard worker you'd want on your crew, and a thoughtful, pensive man, who doesn't say half of what he thinks. That might well be the quintessential Jeff Nichols character, but, just as Shannon has only a minor role in "Mud," that character is present but in the background in this movie.
Tye Sheridan, who was so good in "Tree of Life," is just as good here, playing Ellis, a thirteen year old boy who lives with his father and mother on a houseboat on the Mississippi river. But that lifestyle is disappearing; his parents are splitting up, and the houseboat is in his mother's name, who wants to move in to town. Ellis and his best friend Neckbone (Jacob Lofland) discover a boat in a tree on a tiny island on the river, and then they discover a fugitive living on that island (Matthew McConaughey.) Neckbone thinks he's just a bum and wants nothing more to do with him, but Ellis is intrigued, and decides to help him.
Mud is almost a mythical creature. He's always talking about luck, and hexes, voodoo, curses, magic. He's grown up on the river and in the woods; an old recluse (played by Sam Shepard) is the closest thing he has to family. He's in love with his childhood sweetheart (Reese Witherspoon) and when she ran off with another man who didn't treat her right, Mud did something about it, and that's why he's hiding out now, trying to reunite with her, trying to keep their love alive and ride off into the sunset over the Gulf of Mexico. Everything about him is romantic and idealistic; nothing is practical or pragmatic. He's a modern-day, grown up Huckleberry Finn.
I think that's what attracts Ellis to him.  Over the course of the film, his parents split up, which puts his father's fishing lifestyle at extreme risk. Ellis pursues his first crush, an older girl, only to discover that she's duplicitous and won't take him seriously. His childish ideas about love and romance and life are crumbling right before his eyes… but here is this embodiment of them, risking everything for love, in need of help. By helping Mud, Ellis is struggling to keep alive his own childhood.
That sounds awfully harsh, but this isn't a harsh movie. Part of becoming an adult, I think, is realizing that the really good things in life are rare and  take a lot of work and prayer to pursue or maintain. In the words of an indie rock poet, everything is meaningful, and most everything turns to shit. Some critics have called "Mud" a misogynistic film, because the women don't stay with the men who love them, but I think that's a pretty shallow analysis. Relationships are hard and rarely work in Jeff Nichols' movies, but it's the mens' fault at least as much as the womens'.  These are stubborn men, terrible communicators, and they are either unable, or (more likely) unwilling to do what it takes to keep the relationship alive and healthy.
A lot has been written about McConaughey's renaissance, and in my opinion, this is the best movie he's made in years (though I'd listen to arguments for "Killer Joe".) He brings both a wild romance and a confused vulnerability to the film; he's a compelling character that we root for even as we see the way he's basically exploiting these two boys and putting them in danger to serve his own ends. Perhaps to make a point, the film climaxes with an act of self-sacrifice that stands in stark contrast to the kind of love everyone's talking about.
Nichols' other two movies are also very good, and similar in many ways. "Shotgun Stories" is about a feud between two sets of Arkansas half-brothers after the death of their father; the plot takes on Greek tragedy elements, which play so well in the American South. "Take Shelter" is set in tornado-threatened Ohio, and is about a man who is trying to figure out if the apocalyptic nightmares he keeps having are prophetic or the onset of mental illness.  Place is important in Nichols' films, and it's remarkable that he's made three films in three different places. They're all three films about masculinity, about men struggling to take care of their families, control their impulses, and navigate a confusing world that seems to be falling apart around them.  I enjoyed re-watching all three films, seeing the themes and parallels between them. It's also fun to see Jeff Nichols just getting better and better.  "Mud" is the most ambitious of the three, and the best executed. I'm excited to see what Nichols does next. He's definitely an up and coming director to keep an eye on, and if we don't hear his name attached to an Oscar nomination some time in the next ten years, I'll be really surprised.
Random Notes
–Sarah Paulson's year was almost as good as Matthew McConaughey's. Her parts were small, but she plays the mother here and Michael Fassbender's bitter wife in "12 Years A Slave."
–One of my favorite things about Jeff Nichols as a director is that he'll name a character Neckbone like it's no big deal.