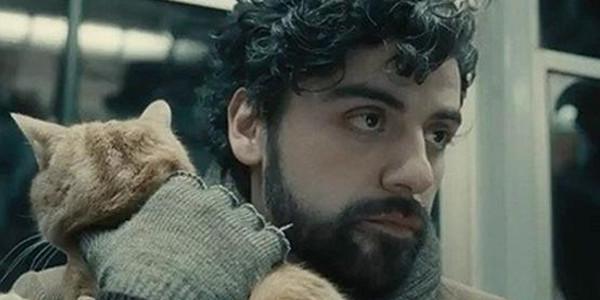 The Coen Brothers' latest film is about an unsuccessful folk singer in New York in the '60s.  He drifts from one friend's couch to the next, offends just about everyone around him, with his gruff demeanor and condescension, and seems stuck in an endless cycle of self-sabotage and thwarted ambition.
Noah Baumbach's latest film is about an unsuccessful dancer in present-day New York. She drifts from one friend's apartment the next, offends just about everyone around her with her awkward vulnerability and over-sharing, and seems stuck in an endless cycle of loneliness and thwarted ambition.
The two movies have a ton in common, obviously, beginning with the notion that both are strong rebukes to this kind of thing:
The Coens and Baumbach both seem to be making the point that at some point, you've got to let the dream go — or at the very least, let it be modified by reality and the people who know how to make an artistic lifestyle commercially viable. Both Frances and Llewyn have overdosed on believing in themselves.
Llewyn, in particular, is fixated on a particular artistic vision. He has several friends around him who are more successful than he is, but he views them with contempt. "What do you think of this guy?" he asks his friend Jim, played by Justin Timberlake, while at the gaslight, listening to another folk singer.  "Fantastic performer.  Fantastic." Jim answers.  "Yeah, but does he have a… higher purpose?"  Llewyn asks.  Jim, and his wife (played by Carey Mulligan) are also folk singers without a higher purpose – they make music people like, and it pays the bills.  Llewyn considers them careerist and kind of sad.  He's the one sleeping on their couch.  "Hang me, oh hang me… I've been all around this world," he sings in the opening sequence.  Llewyn Davis has been all around the world of '60s folk music, and finds nothing there worth living for.  Wouldn't mind the hanging much, but you're in the grave so long.
But while Llewyn's artistic vision cuts him off from his friends, Frances' vision, which is no more compromising, is about her friends. She is attached at the hip to her best friend Sophie — "we're the same person, basically," she tells acquaintances, who look at her quizzically.  Early in the film, she ends up breaking up with her boyfriend, because he wants her to move in with him, and she won't break her lease with Sophie. But then Sophie moves in with (and gets engaged to) her boyfriend, leaving Frances adrift. She bounces around, trying to find someone else to bond with.  She moves in with a pair of boys whose company she enjoys, only to find that their starving artist lifestyle doesn't involve any starving and is heavily subsidized by their parents. ("I caved and finally accepted that loan from my stepfather, the bastard," one of them laments.) She's a dancer, but getting old and not making much progress — the people around her know her options are getting increasingly limited, but she clings to what she loves to do quite stubbornly.
"Inside Llewyn Davis" is the funnier movie, but "Frances Ha" is the warmer one. As with a lot of the Coens' films, you get the feeling that they don't really like their own creation, and most of the funniest jokes are mean-spirited. Perhaps the meanest bit at all comes at the end, which is just like the beginning, implying that Llewyn is stuck in some kind of eternal cycle of misery and futility.  Frances, in contrast, is allowed to grow.  Her film ends, not exactly in a happy place, but in a hopeful one.  There may be life (and joy) after the dream dies, after all.  Actually, maybe the dream wasn't all it was cracked up to be in the first place.  That kind of realization can be depressing, or freeing.  Or a bit of both.
Another thing these two films have in common: a lot of people aren't going to like them.  Both are character studies, mostly content to just follow a character around for a while and see if what they do is all that interesting.  Sometimes it is, sometimes it isn't. They are both well-made movies, but a little too artsy for me.  They're both collections of scenes, some of them very good scenes, but I'm not sure that adds up to a movie. I am a fan of traditional storytelling; I like movies that involve challenge, tension, resolution, character growth, hard decisions, big questions, things at stake. There's not much of that here (as I said, there is a bit of character growth in "Frances Ha," but it's precious little for the running time.) Not much happens in either "Inside Llewyn Davis" or "Frances Ha." That's clearly on purpose, but it moves both of these movies from "great" to "pretty good" in my mind. 
Random Notes (mostly about "Inside Llewyn Davis"): 
 –Carey Mulligan's performance is one-dimensional.  She hates him, and isn't shy about it.  It's funny at first but gets old fast.
–I didn't think John Goodman was funny, or at all pleasant, either.
 —"Inside Llewyn Davis" has a fantastic soundtrack, highlighted by Isaac actually singing and playing the songs.  It could be that listening to "Inside Llewyn Davis" is more fun than watching it.
–The stranger in the cowboy hat reminds me of a similar sequence from "Mullholland Drive."  Having said that, it take a special kind of guy to insult somebody who just kicked you in the gut, and is about to do it again.
–Maybe the funniest line in a Coen brothers' movie since the Big Lebowski: "where's its scrotum, Llewyn?  WHERE'S ITS SCROTUM?"
–Garrett Hedlund played Dean Moriarty last year, and basically reprises that role – with a lot less energy – briefly in "Inside Llewyn Davis."
 — In Llewyn's defense, he really is surrounded by jerks, from the guy who won't let him bum a cigarette to the girl who acts like he slept with her while she wasn't looking somehow. There's nobody he respects, andtruthfully, there's nobody deserving of his respect.  This is what makes it a Coen brothers movie, I guess.
–Diehard folk music enthusiasts will have a good time figuring out which real person each character represents, but for the rest of us, they're just a bunch of people making pretty music.
— It's being said that Llewyn Davis is based on Dave Van Ronk, and here's the clincher: there's actually an album called "Inside Dave Van Ronk" – no lie.  What's more, it has the song "Hang Me, Oh Hang Me" on it.
–The Coen brothers create settings that are beautifully, meticulously realized, but it'd be wrong to call them authentic.  This isn't really Greenwich Village in the '60s; it's a sort of mythical, hyper-real version of that time and place, just as "O Brother Where Art Thou" doesn't really take place in the American South.  (Almost all the Coen movies take place in a jumped up, mythical version of their supposed setting.)
Random Notes