Here we are, officially halfway through 2013, which means it's time for me to stop watching 2012 films and move into this year.  I think I've seen most everything from last year worth seeing, though I'm sure I've missed a few.  Here are my favorites:
10. Killer Joe
"it finds that fine line between horrifying and hilarious, and straddles it like a drunk barmaid on a mechanical bull."
It's not going to be everyone's slice of pie, for sure — it garnered an NC-17 rating after all, though probably not exactly for the reasons you'd expect.  (As a matter of fact, it might be the first film to garner that rating thanks to a scene in which no blood is shed and everyone is fully clothed.) But I love variations on film noir, and this was the smartest, funniest, most original take on the genre to be released this year – or in the last few years.  It's transgressive and outrageous for sure, but in ways that made me cackle with glee.
 9. Moonrise Kingdom
"Watching a Wes Anderson film (and especially "Moonrise Kingdom") is a lot like descending into the basement of a model train enthusiast who has devoted years to developing an entire world, lovingly detailed and remarkably complex. If you'll let him, your host can tell you stories about each of the people in his little town. It's an odd, slightly creepy experience, but if you'll give in to it without judgment, it's also quite absorbing, even enchanting."
8. The Kid With A Bike
I don't love the review I wrote about this film (I must have been in a hurry) but it's one that has stuck with me all year long.  Another in a long line of great, brutally simple films from the Dardenne brothers, it's a powerful look at desperation, love and attachment through the eyes of a tough 9 year old kid.
7. Zero Dark Thirty
The final half hour (storming the compound) is some of the best filmmaking I've seen in years.  It's too bad the rest of the film — everything that comes before — is so weighted down with a maze of details and bureaucracy. Also, I think the protagonist was miscast and needed a tougher, more forceful actress than Jessica Chastain.  Having said all that, it's still a fine movie, a challenging movie, and one that does a pretty good job of capturing the national zeitgeist of the last decade.
6. Silver Linings Playbook 
(Still working on the review for this one; it should be posted soon.) 
David O. Russell has an intriguing habit of taking conventional genres and breathing new life into them.  He's done just that for "Silver Linings Playbook," a romantic comedy about two off-balance people that, given the same assortment of plot and character elements as any number of other romantic comedy, shouldn't feel this alive, original, refreshing and funny.  And yet it does.
5. Chronicle
"I love that the villain, if we can even call him that, has no diabolical plan to rule the world, or get revenge, or anything.  He just has a lot of pain, a lot of well-earned rage, and a lot of power.  It's a potent, destructive combination, and what happens is exactly what has to happen. That doesn't keep us from regretting it, and feeling sad and sober by the end.  As dull as that sounds, it's a great place to be at the end of a film like this."
Completely overlooked by critics (probably because they're sick to death of watching found footage movies,) this was by far my favorite superhero movie of the year.  "Avengers" was plenty of fun,"  "The Dark Knight Rises" had its moments, but this indie flick is a reminder that we love these stories because they're about people, not because they're about destroying whole cities.
4. The Perks of Being A Wallflower
"Most teen dramas fall into two categories: they're either so maudlin and melodramatic that no one out of their teens could possible take them seriously (like the "Twilight" series) or they're pitched with a subtext of nostalgia, sort of nudging and winking at an older audience and whispering "weren't we miserable in high school?  Isn't it funny how much we thought our little, insignificant problems mattered?"  As I remember, this is what it feels like to be a teenager — you can either talk about what's on your mind with your peers, who are no help at all because they're just as immature and confused as you are, or you can talk to an adult, most of whom are patronizing and think your problems are just so cute.  "The Perks of Being That Wallflower" is like finding that one adult – a teacher,a  counsellor, maybe a pastor – who actually takes you seriously, without pretending to be a teenager themselves. What a relief to find a person like that.  Or a film like this one."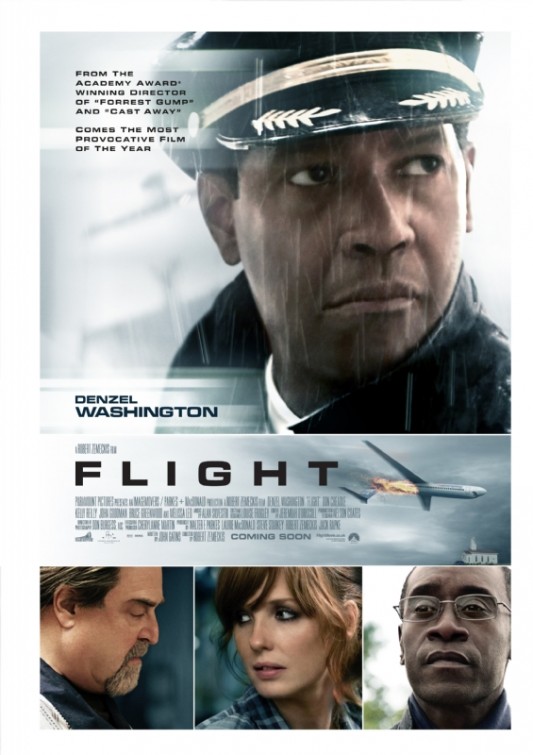 3. Flight
"The genius of "Flight" is that it presents this man as both these things – hero and addict – with no hint of ambiguity in between.  There's never any reason to believe that Washington's substance abuse caused the accident.  A mechanical error was responsible for that.  And, as the film progresses, any hope that Washington will be able to straighten himself out and quit the drugs and booze by sheer willpower and discipline quickly evaporates.  This guy is a hero, and he's a mess.  He has saved many lives, and is actively destroying his own.  Most movies would lean one way or the other.  Zemeckis keeps flight right in the middle.  It's fascinating to watch."
"Flight" wins my Flannery O'Connor Would Approve award (along with past films "The Music Never Stopped" and "Secret Sunshine") because from a certain angle, it's all about savage grace – bringing a proud and stubborn man to his knees so that he can experience the redemption he so desperately needs.
2. Cabin in the Woods
There seems to be no end to the enjoyment I receive from this film.
"I love meta, and "Cabin in the Woods" is full of it.  It's both a fully functioning horror flick with plenty of gotcha! scares and a commentary on horror movie conventions, or perhaps even on the reasons why we watch movies where everybody but the virgin dies, and what it's like to make a movie of that sort."
1. Lincoln
"Lincoln" plays ike a 19th century version of "The West Wing" (which, Mr. Sorkin, if you're reading this, I would SO watch that show.) it focuses on a few weeks in Lincoln's White House, and the struggles, contriving, dealmaking, scheming, and pleading it took to get an abolishment of slavery into the Constitution.
Backroom political deals may tarnish our notions of how a democracy really works, but surprisingly enough, they make great theater, if handled right.  And screenwriter Tony Kushner (who penned the award-winning "Angels in America" years ago) does a great job of coaxing the drama out of horse trading, and maximizing the theatricality of a congressional debate, without losing the audience in the intricacies of Capitol Hill.
The Next Tier:
The first seven films on this list were pretty clear-cut.  The last three were a lot harder to choose, and on a different day, or in a different mood, I could have very easily put any of the following films in those final three spots.
Wreck-It Ralph – hands-down, without a doubt, the best kids' movie of the year.
Django Unchained – I haven't reviewed it yet, but it was one of the most sheerly entertaining films of the year.
Life of Pi – captures the sheer joy of storytelling  unlike any other movie this year. 

Argo – Like "Zero Dark Thirty," I thought it was overrated, but that doesn't mean it wasn't a good movie.
Beasts of the Southern Wild– certainly one of the most original movies of the year.  I need to watch this again to figure out what I really think of it, and where it ranks among this year's best.