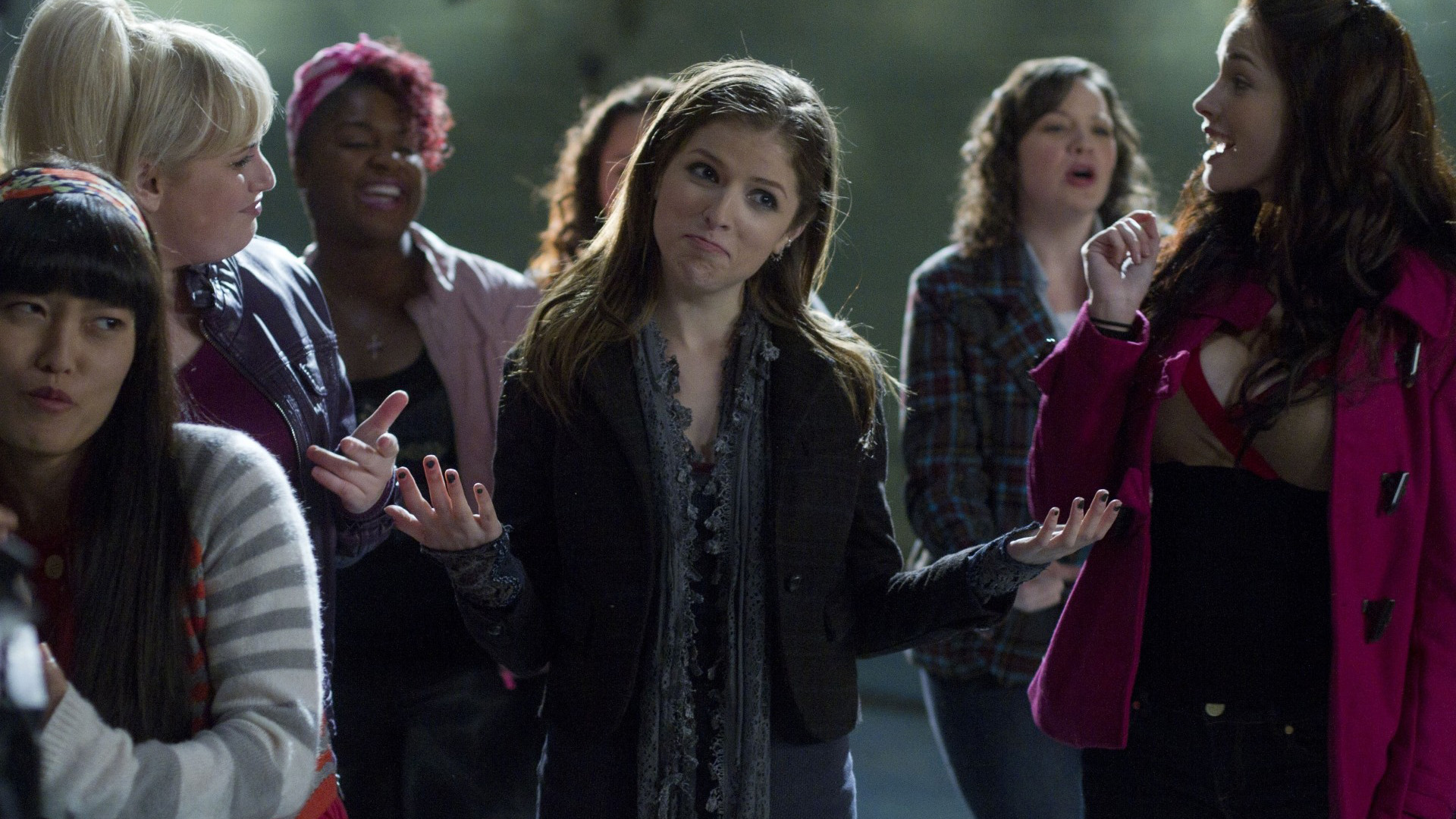 It's more or less a 2 hour episode of "Glee" or "Glee Goes to College," or something like that.  Anna Kendrick wants to be in L.A. starting a musical career along the lines of Skrillex, but her father forces her to go to college and join at least one club — so she chooses the all-girls a cappella group, the Bellas.  The Bellas are led by Brittany Snow and Anna Camp, two barbie dolls who think the same old stale dance routines and Ace of Base will get them to the regional finals.  Needless to say, Kendrick wants to spice things up.
Anna Kendrick is mostly great in the lead role.  She's an actress who can do a ton with a slight variation in facial expression, and a solid grasp of comic timing.  The supporting roles in "Pitch Perfect" are a mixed bag.  Rebel Wilson is wonderful as Fat Amy, a sassy, confident diva who gave herself her nickname "so that you twiggy bitches don't call me fat behind my back."   Anna Mae Lee is occasionally funny as a soft-talking wisp of a gal who has some shocking things to say, if you can hear them.  After that, it drops off significantly; the lesbian jokes totally bomb and the gal who can't sing without touching herself in inappropriate ways is just annoying.
Though this is certainly not the kind of thing you're supposed to be thinking about when watching a bit of pink fluff like "Pitch Perfect,"  I thought the parallels between mashup artists and a capella were interesting, and not immediately apparent.  Both are about taking a piece of music and separating out its individual elements, and then putting it all back together in a way that sounds fresh and original.   Danger Mouse and Rockapella are basically doing the same thing, just with different instruments.  Who knew?
Verdict: Recommended, if you like "Glee" or movies like "Bring It On."   Suitable for a brainless movie night.