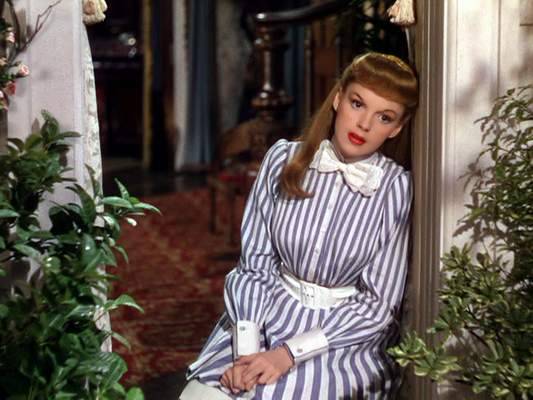 I saw this on a list of Christmas classics lately, and thought I'd give it a spin. I wasn't impressed, and it definitely won't be added to my annual rotation of Christmas movies.
Like "Pride and Prejudice," it's a film entirely concerned with making sure two eligible females in one family get married before they get too old, or the movie ends.  Judy Garland is the star, and she's got her eye on her next-door neighbor, an oafish boy played by Tom Drake.  Her older sister, Rose (Lucille Bremer) is courting a boy in New York, and trying to coax a proposal out of him before another girl catches his eye.  There are other brothers and sisters, but the only one who gets much attention is the plucky and cute Tootie (Margaret O'Brien,)  who buries her dolls in the backyard.  Giant stretches of the movie are devoted to showing off how cute and odd Tootie is.
Leon Ames plays the father, and there are plenty of attempts at humor based on the fact that he gives orders as the head of the family despite the fact that he is clueless about what's really going amongst the ranks.  (Judy Garland, naturally, is the real family head.)  When he accepts a promotion that will move the family to New York, everyone is very upset about leaving their beloved St. Louis, especially right before the World's Fair comes to town.
Judy Garland is the most upset, because she has finally convinced the oafish boy to propose to her, but now she's moving away, and it seems doubtful that their union (contrived as it is by her manipulative schemes) will survive the distance.  But she puts on a brave face and sings "Have Yourself A Merry Little Christmas" to Tootie, who barely controls her tears until the song ends, then flies into a rage, beating her various snowmen into powder in the middle of the night.  (Since the snowmen are made to look like various family members, it's a disturbing scene.)
I love "Have Yourself A Merry Little Christmas,"  but never knew it came from this movie, or that it's really supposed to be a sad song, about the last holiday you will spend in the house where you grew up.  Judy Garland's version is beautiful; she is a captivating singer with an intriguing voice, both velvety smooth and beguilingly deep and husky.  Garland is definitely the best thing about this movie, but she can't save it from the fact that nothing really happens here, and the stakes are terribly small.  I just can't bring myself to care all that much if these two girls manage to get married before they're twenty, or if this family has to move to New York or not.  And I didn't think Tootie was cute enough to justify all the screen time devoted to her.