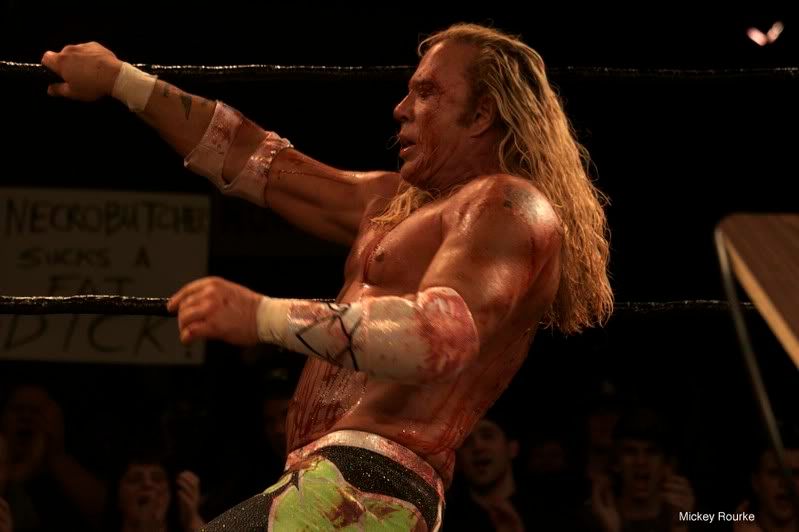 Turns out there are a lot of similarities between being a professional wrestler and an exotic dancer.    Both jobs require exaggerated, stylized physiques. Both wrestlers and strippers often require chemical (and surgical) help to maintain those physiques.   Both professions appeal to our, um, baser instincts/appetites/urges.   And both are dead end jobs: once your body gives out, you're out on the street. Funny thing is, all the same things can be said about certain types of actors and actresses.  
Maybe that's why Mickey Rourke and Marissa Tomei are so heartbreakingly convincing in "The Wrestler."   Rourke, in particular, made a name for himself in the 80's as a beefcake actor, starring in movies like "Angelheart,"  "9 1/2 Weeks" and "Wild Orchids."   (I remember seeing him in "Francesco,"  and wondering if Francis of Assissi really spent that much time naked.)  His career petered out, so he started boxing, then got too old, and tried acting again, but hasn't exactly had directors lining up at his door.   Tomei, on the other hand, has actually had a pretty consistent, if under-the-radar, career, picking up awards nominations every few years for quirky roles in quirky movies ("My Cousin Vinny,"  "Unhook the Stars,"  "Slums of Beverly Hills," and "In the Bedroom,"  among others.)   Nonetheless, any female actor of a certain age — except perhaps Meryl Streep– has to wake up nights, wondering if she's received her last casting call.   It's just the (brutal and sexist) nature of the movie business. 
The plot of "The Wrestler" is pretty run-of-the-mill indie movie type of stuff: An aging professional wrestler must quit, reassess his life, try to reestablish contact with loved ones, and find a normal job, but is so entrenched in his habits and lifestyle, has his identity so wrapped up in being a wrestler that doing so is no piece of cake.   It reminded me, in many ways, of Maggie Gyllenhaal's "Sherrybaby" a few years back.   It stands out from the pack because of the performances of Rourke and Tomei — which, from one angle, are hardly performances at all.