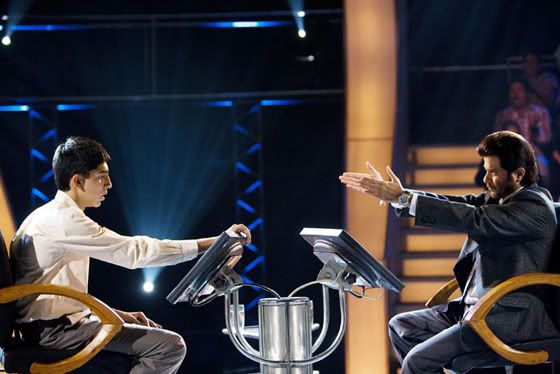 A young boy finds himself in the hot seat on "Who Wants to be a Millionaire."   When the charismatic gameshow host finds out that he is nothing more than an assistant cell phone salesman – a chaiwalla, really – expectations are low.  He won't last long.  But he does.  He lasts, and lasts – until the gameshow host is convinced he is cheating and he is hauled off the police station.
He knows all the answers, because he has lived each and every one of them.  Some of them he wishes he didn't know.  From one angle "Slumdog Millionaire" is a reminder that information that is trivia to most of us is hard earned, and deeply felt for some.   ("Slumdog" could make an interesting party game: write a trivia question that is related to some important event in your life.  See who knows the answer.  Tell your story.)  The movie is a collection of flashbacks, interspersed with trivia questions under bright lights and in front of a suspenseful audience.
It's a clever structure; really, this isn't a movie about a game show at all.   It's a movie about growing up an orphan in India.    Does the game show really matter?   Not so much – but it gives structure to the film, as well as tension and excitement.   The structure makes the movie pop and sparkle.   Without the game show, this would be a decent but fairly mundane movie.    But without the flashbacks, this would be no movie at all.
The vivid color, as well as the violence and romance, of "Slumdog Millionaire" reminded me of "City of God."   Are there truly simlarities between the slums of Mumbai and those of Rio de Janeiro?   Undoubtedly.   Both movies add a lot of glamour and pizzazz to lives filled with poverty, injustice, and violence.    "Slumdog" is the anti-Scorsese; he often deals with the same subjects in America, but stylizes them by subtracting color, giving us a very limited palette, and a very distinct sense of style.   Danny Boyle goes the opposite way with "Slumdog Millionaire."    Consider:  a comic scene in which the boy swims through a river of feces in order to get an autograph.   It's deftly and sweetly played for laughs; it's kind of amazing how cute the kid is, covered in crap.   The whole movie plays like that;  terrible things happen, but the last thing Danny Boyle wants to do is break your heart.   They happen amidst such bright colors and cuteness and humor that they don't sink in.   Sometimes "Slumdog" moves past the unpleasantness so fast that it feels like Boyle is one of the Indian tour guides, saying "nothing to see here, really.   Let's move on."    It doesn't seem like it should be possible to make a feel-good movie about abused, tortured, raped and disfigured orphans in India who become pimps and gangsters when they grow up, but here you go.
But I don't mean to be such a sourpuss.   "Slumdog Millionaire" is sweet and and romantic – I haven't said a word about the Love Conquers All subplot — and fun to watch.   It'll warm your heart, bring a tear to your eye, etc.  Everyone's loving it, and it's in the running for lots of awards.   But to me, it feels a little too confectionary to be considered a great film.  Poverty and injustice– and India, for that matter — aren't this colorful and cute.   They only look that way in the movies.