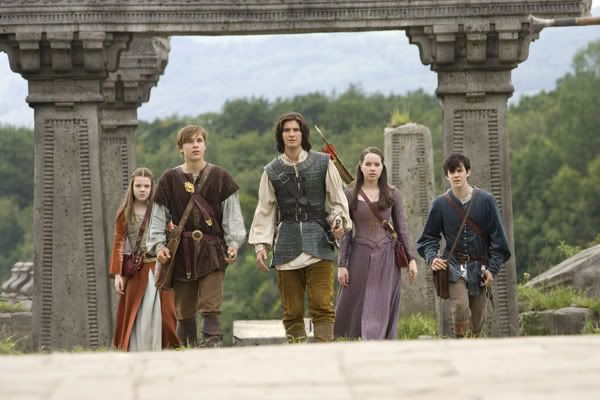 By Willie Krischke
Written by C.S. Lewis in 1949, "Prince Caspian" is about a group of native Narnians uniting under a foreign king to fight off the Telmarines, who have invaded the land, massacred its natives, and pushed the remainder underground. Clearly it carries the echoes of an Englishman's fear during World War II, but I think Lewis had a deeper analogy in mind when he wrote this children's story. A lover of all things magical, mystical, and marvelous, he felt the world being overtaken by a grey rationalism/naturalism. Lewis' deep belief that there must be something more than the physical and rational is what led him to Christianity, and is perhaps the central theme of his collected writing. But in 1949, his England, the England of Arthur and Chaucer and "A Midsummer Night's Dream" was quickly disappearing, pushed underground by usurpers and unbelievers.
Almost all of this subtext is left behind in the transfer to celluloid; what is left is, basically, a medieval war movie. The Narnians vs. the Telmarines, battle to the death. It bears a lot of similarities to "The Two Towers," though it's not allowed to be that grand, because the conflict has to be defined, fought, and settled within its two and a half hours. Which isn't very long for a war to take place, really.
To its credit, it's not a bad war movie. The epic battle hinges on a brilliant strategy you don't see coming, and there are some impressive setpieces and s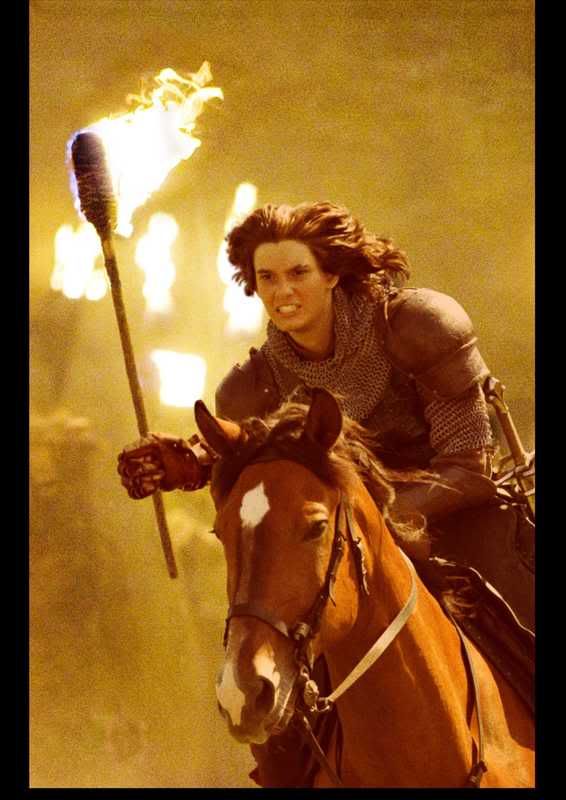 pecial effects. The centaurs are noble, the musketeer mice are nimble, and on the whole, the battles are an engaging spectacle. At its heart is a tense, well-choreographed sword showdown. But "Prince Caspian's" fatal flaw is its lack of characterization; Prince Caspian never seems like a worthy leader, and all of the central Narnians (a badger, some dwarves, a centaur and a mouse) never do or say enough to really make themselves interesting characters. Folks who have read the book before seeing the movie will be able to fill in these rough sketches with the details, charm and wit of their favorite characters, but for anyone who hasn't entered Narnia via the page, there's just not much to work with. And while our four Pevensies have grown gracefully, it's feels like a stretch to make your central Prince Valiant figure fifteen years old and barely visible underneath his armour. Aragorn he ain't.
"You may find Narnia a more savage place than when you left it," one of the characters rasps, and the filmmakers are clearly working to make it so. I'm not sure why. To appeal to a more adult audience? To parallel Harry Potter, which certainly grew darker as it progressed? The choice seems ill-advised; what always worked in Lewis' novels was the charm, the humor, the sense of wonderful magic and deep mystery. Where the book spends almost its entire first half gathering Narnians, giving them hope, reminding them of who they were and who they could be, the movie spends this time staging a bloody battle the Narnians lose. "Prince Caspian" ought to be about a people trying to recover what they've lost; instead it's about talking animals, dwarves and centaurs working to be as ruthless and cunning as their soulless adversaries.
But then Aslan shows up, and brings a scene straight from "Fellowship of the Ring" with him, and saves the day. I know he's the Christ figure, but he feels like a Deus Ex Machina.
You wonder why he didn't arrive sooner. You wonder why the Narnians need a human king, anyway. You wonder if this Prince Caspian is really capable of reconstructing Narnia and uniting the oppressed and their oppressors, or if another civil war isn't just years away. And, if you're a reader like me you wonder what happened to the nostalgic little book C.S. Lewis wrote.
(Thanks, I hear you saying. Another literary sourpuss here to tell me that the movie wasn't as good as the book. What movie ever is? True enough. But some movies still capture the spirit of the book, honor the author, and communicate the same sense through a different medium. Example? The Lord of the Rings. Even the first Narnia movie held closer to the spirit of the story than this one did. The credits shouldn't read "Based on the children's book by C.S. Lewis." They should read "with occasional references to a children's book by C.S. Lewis.")
Recommended
if you're really into medieval-ish, sword-and-sorcery, epic battle movies.
if you've seen "Lord of the Rings" a bazillion times, would like to see it again, but promised to take the girlfriend to something different this time.
if you've always meant to read the Narnia series, but never got around to it, and probably never will
if you read "Prince Caspian," thought it was just a good story, and are willing to transfer some character knowledge from the book to the screen.
Not Recommended
if you read the book and appreciated more than just the story.
if you're wary of allegorical references to God and faith that don't really add up to much or make a lot of sense (come on guys: you can't change the entire structure of the book but leave the allegorical references in and expect them to actually work!)
if you've seen enough of swords, centaurs, magical horns, river gods, etc.