"The Fall" is, above all things, a visual wonder.   This is the kind of movie airlines should show on long flights; even if you don't buy the $5 headphones, you will be completely captured by the images on the screen, and across the ocean before you know it.   Director Tarsem (he only has one name, like Madonna or Liberace)  has a stunning visual vocabulary of Guillermo del Toro caliber.  "The Fall" is this year's "Pan's Labyrinth;"  it is a kid's story for adults,  a fascinating combination of real world fantasy and fantastic reality.
Catinca Untaru is a five year old Romanian migrant worker who has fallen from an orange tree and broken her arm.   The doctor is keeping her on bedrest for an awfully long time, because he knows that as soon as he releases her, she'll have to be back in the trees again.   As she wanders the hospital grounds, she stumbles upon Lee Pace, an actor who does his own stunts who has broken his back jumping from a bridge.    He has recently lost his beautiful girlfriend, and is feeling rather suicidal.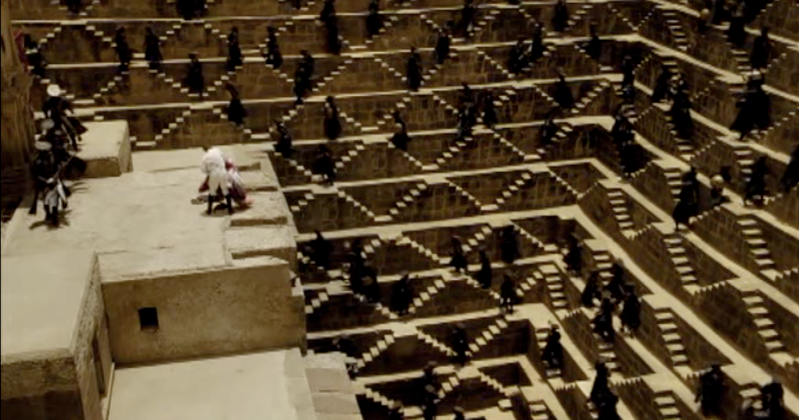 He tells a epic story in parts to Untaru, and eventually uses the story to get her to do things for him – namely, to steal meds.  The story involves five bandits (including Charles Darwin) a mystic, a beautiful princess, and a plot to kill an evil governor.
An awful lot hinges on the performance of Untaru.  I've said before that I think acting comes naturally to children, and so I'm done exclaiming about their wonderful performances, but if nothing else, the casting of this little girl was a revelation.   Romanian born, she her broken English adds authenticity and considerable charm to her accent, in a way I don't think an actor her age could've faked.   And she is believably content the only child in a world of grownups; as she wanders around the hospital, toting her box of goodies in her immobilized hand, you get the sense that a playmate would only burst her bubble and drag her down into the banal world of ordinary children.   She is much happier, and much more interesting, in her own fantasy world.
Some have complained that the movie lacks much dramatic structure.  True, but I think they're missing the point.    The story is long and winding on purpose; it's an ongoing bedtime story, a tale to stir a five year old's imagination.    Imagination is what matters, not plot, pacing, tension, characterization, or plausibility.   Who ever got anywhere by question the pacing of a bedtime story?   The great "Lord of the Rings" was born this way – out of stories J.R.R. Tolkien told his sons to give them amazing dreams.  "Arabian Nights" works this way as well; all of those stories about Ali Babba and Aladdin and Sinbad were told by Queen Scheherazade to save her own skin.   To end the story means death.   It's a kind of storytelling we in the West have forgotten about, and I'm grateful to be reminded.
Recommended
if you liked The Princess Bride, The Neverending Story, The Wizard of Oz, and Pan's Labyrinth – and wondered what might happen if they all got mixed up in a big bowl together.
Not Recommended
if you are easily bored.
If you think kids' movies – or movies involving kids – shouldn't ever be dark and scary, or make one cry.
If you hear "stunning visual effect" and you think "really bloody battle scene."
Tarsem is a much-coveted music video and advertisement director, and he filmed "The Fall" on location between his other projects, financed out of his own pocket.   It took him four years and was filmed in 28 different countries.   And—keep this in mind as you watch it – not a single computer generated effect was used in the making.   For more on this exciting new director, read this interview at the A.V. Club – one of my favorite "other" movie sites.
"The Fall" releases on DVD Tuesday, September 9.