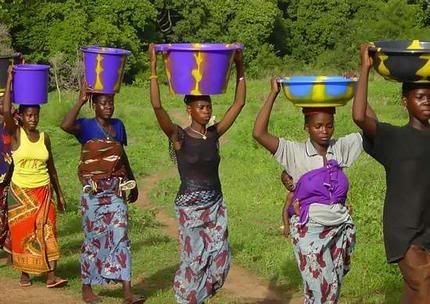 You're going to get the wrong impression about "Moolaade." You're going to read, in reviews or blurbs, that it's a movie protesting female circumcision in Africa, and you're going to think it's intense, graphic, and disturbing, the kind of movie that makes you wonder how some people can call themselves human. Maybe you like that kind of movie, maybe you don't; all I can tell you is that "Moolaade" is not that kind of movie.
Yes, it is about the rite of female circumcision. And don't worry, it protests against this horrible practice. But just as the main character Colle invokes a Moolaade, or protective spell, over four little girls to save them from this rite, writer/director Ousmane Sembane seems to have cast the same kind of spell over his movie, to protect his viewers from the darker side of the material. There is cruelty, violence, and murder, but it is all handled in an almost optimistic manner. Violence occurs almost entirely offscreen. We see no dead bodies, though girls certainly do die from what the movie calls "excision." The bad guys aren't sadistic or sexually twisted in some horrifying Hollywood way. And, is often the case in real life, people are cruel because they don't see that they have any other choice. Everyone is human, and the filmmaking is most humane. What a relief.
At its heart, "Moolaade" is about a community much more than it's about an issue. I don't really know what else to compare it to but "Our Town." Only now, our town is in Burkina Faso. The rules are different in Sub-Saharan Africa than in Midwest American, but it's surprising how much is the same. Colle (Fatoumata Coulibaly)is the second wife of a respectable man in town, but has a reputation for being strong-willed and a little rebellious – all the village women know she didn't allow her daughter, Amsatou (Salimata Traore) to be circumcised. Amsatou is engaged to Doucoure, the son of the village elder, whose return from Paris (with lots of money) is eagerly anticipated. Apparently he doesn't know that his wife-to-be is a bilakoro, or impure one, a status which carries with it a whole array of myth and social stigma.
When four young girls escape the circumcision ritual, they run to Colle for protection, and Colle invokes the Moolaade. Her husband is out of the village, so the head of the household is the elder wife (whose name I have never caught, despite watching the movie again and listening for it.) One would expect a certain competitiveness between the wives, but instead there is the kind of relationship that must develop once being competitors gets old. She admires Colle's boldness, while still maintaining her respectability; Colle appreciates her support, but understands her need to maintain standing in such a small community.
Mercenaire is a pushcart salesman passing through the village selling his wares, and he functions somewhat as a surrogate for the viewer. He has seen much more of the "modern" world, and though he is generally good natured, he is not afraid to condemn practices in the village he finds archaic. When Colle's husband returns and beats her in public for what she has done, it is Mercenaire who intervenes – and suffers for it.
"Moolaade" is a story about one woman's courage, and how that affects an entire community. It's also about a town's struggle to maintain their traditional identity while adapting to the larger world increasingly affecting theirs. At one point, the elder's council decides it must be the Western world that is causing Colle to rebel, and they take away all of the women's radios. But as this act of repression backfires, as acts of repression almost always do — the deprivation of their hard-earned radios galvanizes the formally apathetic women, and they rally to Colle's side. The image of the radios, in a pile outside of the mosque, some of them still playing, is powerful and reminiscent of other attempts to repress dangerous ideas.
[YouTube=http://www.youtube.com/watch?v=VtX7MFytQmY]
It is interesting to see echoes of Nazi Germany, the Soviet Union, and other repressive dictatorships play themselves out in a small, remote village so far from the familiar. But, as one character says near the end, "the age of small tyrants is over…forever." Let's hope that's really true. "Moolaade" gives us reason to hope.
Recommended
if you've ever been to Africa
if you're interested in a slightly different, slightly universal, style of storytelling
if you're looking for a movie to "expand your horizons" — and you don't mean chemically
Not Recommended
if you want the same old Hollywood fare
if you have no patience with subtitles and/or relaxed storytelling.