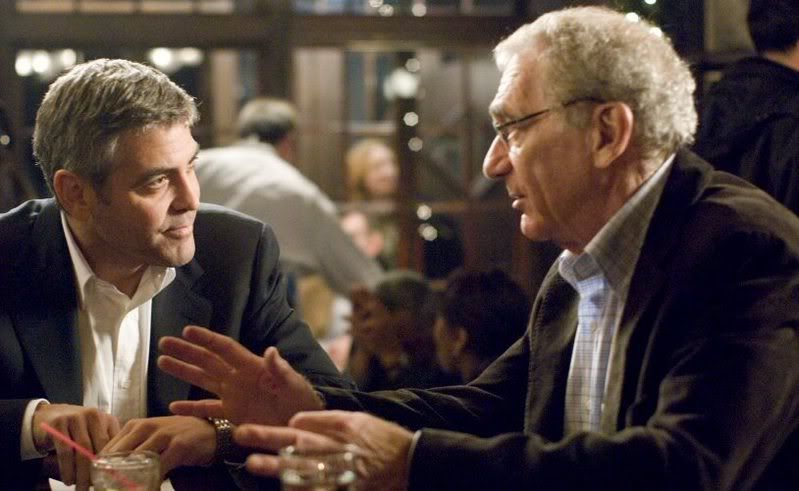 He's a handler. That means he knows people, and they owe him favors, because when they get in trouble he gets them out of it, because he knows people. To everyone else, he's invisible, and that's the way he wants it. The only people who know he exists are the ones that need to, and to them, he's a hero. He's quick and efficient and reliable. Harvey Keitel played him marvelously in "Pulp Fiction."
George Clooney plays him pretty marvelously as well in "Michael Clayton," a movie about a handler, and then about a bunch of competent people who are in over their heads. Clooney as Clayton is the handler who runs into a situation he can't handle. Tom Wilkinson chews scenery as the grubby corporate lawyer who can't stand defending kid-poisoners any more. And Tilda Swinton, that queen of ice, melts as the head counsel for a multi-billion dollar agrobusiness, aka the kid-poisoners. Sidney Pollack even turns up, playing, as always, a very rich, very masculine, very familiar with corruption Head Honcho. What a cast.
What a movie. "Michael Clayton" is smart, tight, and engrossing. This is an action thriller for grownups, who know that most conflicts get solved with pens, not guns, but can be just as bloody. It's about lawyers, but don't be thinking John Grisham; Tony Gilroy's script turns corners so tight and accelerates so suddenly it makes "The Pelican Brief" feel like a clunky old minivan. Gilroy also wrote all three of the "Bourne" movies, and now they feel like they were all building up to this, the day Bourne puts the guns down and dons a Brooks Brothers suit and tie, and really gets to work.
Arthur Edens (Tom Wilkinson) is the lead lawyer representing a UNorth, a giant agricultural corporation on the business end of a class-action lawsuit because of a toxic fertilizer. When he goes a little kooky and strips naked while uttering apocalyptic apologies at a deposition, this becomes a case for Michael Clayton. But Clayton has problems of his own; he owes the mob money he doesn't have, and there's this book his son wants him to read. His bosses keep telling him to get the job done, and he keeps telling them why it's more difficult than they might think. Namely, because Arthur, though he might be nuts, is smart as a whip and has a plan of his own.
In steps Karen Crowder (Tilda Swinton), lead counsel for UNorth, and a pair of anonymous goons that do her bidding. Swinton is incredible in this role; where she could be ruthless and cunning, she appears overwhelmed and scared, acutely aware that she ought to be ruthless and cunning. This adds humanity and depth to the role, and when she makes a series of bad decisions, we understand it's not because she's evil, it's because she isn't, and thinks she ought to be. What follows is perhaps the most chilling assassination sequence I've ever seen in a movie. Never has taken a human life looked so much like cleaning up hazardous waste; to UNorth, they're the same thing
There is an intriguing subplot about Clayton's son and a book he's reading; I've scoured the internet only to find that the book doesn't exist. This is the kind of luxurious writing "Michael Clayton" affords us; even the minor details are interesting enough to warrant further investigation. (Oops, I said "luxurious;" in critic-speak, that means slow, with lots of pretty landscapes and wandering dialogue. Well, not this time.)
"Michael Clayton" has a tight and satisfying end that I don't want to give away, but let me say this: George Clooney has the best speech of his career, and he lives up to the material. All around "Michael Clayton" is enjoyable and well-made. This is one of the best movies of the year.
Recommended
to just about everyone who likes smart, grownup movies.
to fans of great acting, great writing and great directing.
Not Recommended
if you're not willing to pay close attention; this moves pretty fast.
if when you think "action-thriller" you think guns and fast cars.