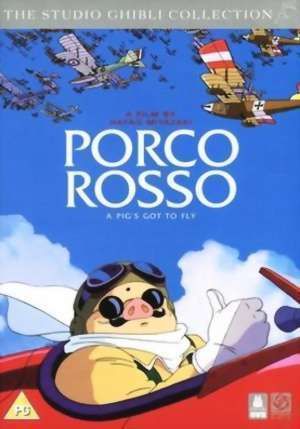 When I was a kid, the great movies I watched filled my imagination for much longer than the time I was watching them. I built spaceships out of couch cushions after "Flight of the Navigator," I navigated magical mazes made of hedgerows and weeds after "Labyrinth." The movies I still remember are the movies that introduced me to a place I wanted to stay awhile, and make up new stories.
And so if I have my way, my kids will meet Miyazaki before they meet Walt Disney. I have seen almost all of Miyazaki's films, have found them to be wonderful, imaginative, and engaging. From the quiet magic of "My Neighbor Totoro" to the elaborate, involved plots of "Spirited Away" and "Princess Mononoke" each Miyazaki cartoon has escorted me into an elaborate, and imaginative world where I wouldn't mind having a little more time to explore on my own.
"Porco Rosso" is only different from the above mentioned releases in one way — it takes place in the real world. Specifically, in the Mediterranean, post-World War I world. It follows, faithfully and with great (though light-hearted) respect, the classic '30s action adventure formula – the same one mined by Spielberg for the Indiana Jones movies. We've got the Devil-may-care hero, the hooker (er, nightclub singer) with a heart of gold, the spunky sidekick, and, of course everyone operates just outside the law. This time our hero is a pig, or has a pig's head, at least. It's never explained beyond being the result of a curse, and I'm inclined to believe that it's just Miyazaki's nod toward the usual "pigheadedness" of heroes in this kind of movie. The pig's a pilot, and he operates as a sort of vigilante, protecting travelers from air pirates. Miyazaki (who has a thing for bumbling air pirates) establishes the tone of the action quickly — the pirates kidnap a bunch of little girls, who think it's the coolest, most exciting thing that could ever happen to them – kidnapped by pirates, hooray!
Our "villain" is a hotshot American pilot, hired to get rid of Porco Rosso. Though he looks a little like Clark Gable, he seems more French than American to me, with his tiny mustache and effeminate mannerisms. I think the animators — and the voice actor — missed the cue on this one, but maybe that's because I'm American.
As this is a genre-type film, the plot's not full of surprises. The bad guy wins the first round, the good guy rebuilds with the help of a spunky sidekick, then the rematch. It is smarter than your average kid's movie, well-paced, beautifully animated, and there's enough humor to keep it interesting, if still predictable.
One of the few beefs I have with "Porco Rosso" was the use of the girl as a bride-prize in the fight. Come on. The movie plays smart enough that even the dumbest guy in it (that would be the American) should know that you can't make a girl your wife who doesn't want to be your wife. That's just buying misery for yourself. The bride-prize convention is beneath a movie like Porco Rosso; it" too soap opera, too fairy tale, too Disney.
There is a scene about halfway through in a movie theater where Porco seems to be watching a cartoon of himself while chatting with a friend about Fascism. This will go over most kids' heads, but they won't mind. Adults who are watching will enjoy the dialogue, the movie-within-a-movie commentary, and the general skill of the filmmakers.
I should issue one warning to parents: The dogfight ends with a knock-down, drag-out fistfight, and this might be the only moment I would be concerned about a small child watching the film. Our hero gets pretty pummeled. It ends well, and even the bad guy gets to be a good guy, kind of. There is an amusingly ambiguous note to the ending, and your kids will want to know what happened. Pay attention, and you'll know. The clue is there on the screen. You can point it out to your children, and they'll think you're so smart.
It is very interesting to watch a Japanese animator take an old American filmmaking convention, set it in Europe, and let it fly. I love old Bogart movies, and thoroughly enjoyed this one. I can't wait to show it to my kids.
Recommended
if you'd like a change from the Disney formula;
if you're a Bogart fan;
if you like amazing airplane movies.
Not Recommended
if, when you think "Japanese animation" You think "Ghost in the Shell"
if the idea of a cartoon pig Bogart horrifies you.
(Almost all of Miyazaki's films are being distributed in the U.S. by Disney. They've been dubbed in English, so little kids don't have to bother with subtitles. Almost always, dubbing is awful, but these are all done surprisingly well. Thank you, Mickey Mouse.)