"Mud" was #7 on my top 10 movies of 2013 list.  I reviewed "Shotgun Stories" several years ago.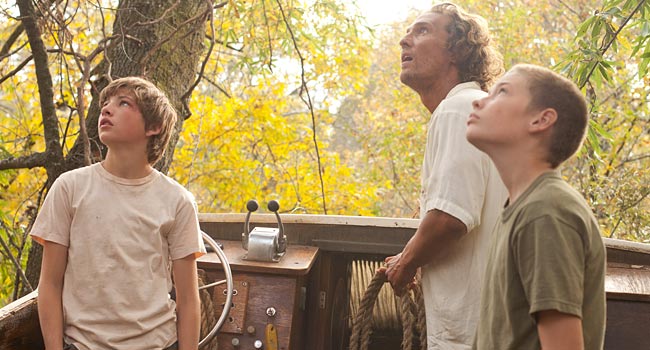 Over the last few years, Jeff Nichols has become one of my favorite new directors. He makes movies about blue-collar characters, men who are deeply connected to the land where they live and make their living, men who take care of their business but often see the world unraveling around them in one way or another. Nichols' favorite actor is Michael Shannon, who's also one of my favorite actors. If you've only ever seen him as General Zod in Zack Snyder's "Man of Steel," you haven't seen him at his best (though I thought he did a fine job there; in a film full of problems, he wasn't one of them.) Shannon is eminently believable as both a man of the earth, a hard worker you'd want on your crew, and a thoughtful, pensive man, who doesn't say half of what he thinks. That might well be the quintessential Jeff Nichols character, but, just as Shannon has only a minor role in "Mud," that character is present but in the background in this movie.
Tye Sheridan, who was so good in "Tree of Life," is just as good here, playing Ellis, a thirteen year old boy who lives with his father and mother on a houseboat on the Mississippi river. But that lifestyle is disappearing; his parents are splitting up, and the houseboat is in his mother's name, who wants to move in to town. Ellis and his best friend Neckbone (Jacob Lofland) discover a boat in a tree on a tiny island on the river, and then they discover a fugitive living on that island (Matthew McConaughey.) Neckbone thinks he's just a bum and wants nothing more to do with him, but Ellis is intrigued, and decides to help him.